Over het leven van Yah Tararah!
In 2006 stapten 7 muzikanten, al dan niet met hun instrument het jeugdhuis binnen om eens te repeteren en uit te zoeken of we een soort balkanfanfare uit de grond zouden kunnen stampen. Balkan, omdat we gek waren van de films van Kusturica, met bijhorende humor en natuurlijk, de muziek. 
Nog geen half jaar later gaven we ons eerste optreden, met een 5-tal nummers, en 15 muzikanten. De formule sloeg duidelijk aan en al gauw vonden meer muzikanten hun weg naar Yah Tararah. Binnen het jaar hadden we een heel repertoire en een volledige balkanbende van 25 muzikanten verzameld. 
Al meer dan 150 keer stonden we op een podium of speelden we in tenten, op feesten, festivals, jaarmarkten, kermissen, kortom alle plaatsen waar er gefeest wordt. Want dat is waar we voor gaan. Feestelijke optredens van de eerste tot de laatste noot.
Die 25 muzikanten, zijn zowat de gemiddelde bezetting gebleven door de jaren heen. Meer zelfs, er was door de jaren heen heel weinig verloop. Misschien omdat we een fijne sfeer niet alleen op het podium, maar ook onder elkaar belangrijk vinden.

Het zal een volgende volkstelling vragen om ons precies aantal te schatten, maar het laatste jaar werd wel wat verder gepuzzeld aan de bemanning en werden nog wat extra muzikanten aangetrokken zodat de balans en de 'sound' goed zit. De groep werd uitgebreid tot een dertigtal muzikanten. Een hele crew dus. 
We zijn geen echte fanfare of harmonie. Daarvoor is onze samenstelling wat te eigenzinnig. 
Centraal staat de percussiesectie. Straffe drums, omringd met kleine percussie, de obligate cymbalen en wat djembe's om ook de oosterse sferen te bereiken.  
In de lagere regionen vind je de sousafoon, een basgitaar, bastuba, euphoniums en baritonsax. Deze worden geflankeerd door de enige echte elektrische gitaarvisser en, een van de fundamenten voor  de lekkere balkansound, de accordeon. 
Geen balkenfanfare zonder trompetten natuurlijk (5 stuks, jawel), saxen, klarinetten en dwarsfluiten. Sinds kort zorgt ook een viool voor wat extra sfeer.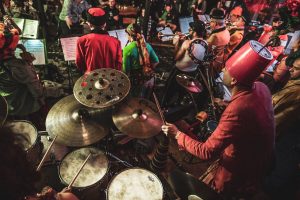 Volg ons op Facebook voor meer Yah tararah verhalen!